Buying A New Crib
Date Posted:11 December 2017


Buying a New Crib
The Different Types of Cribs: Compared & Contrasted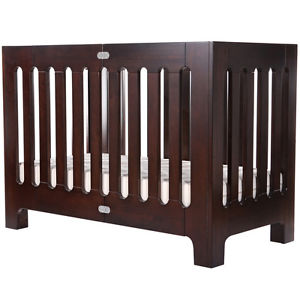 Standard Baby Cribs
The traditional type of crib; if you close your eyes and think of a crib, this is probably the one you're picturing!
They're generally simple and don't have a lot of frills; just 4 walls, but they do come with different options.
If all you need is a good crib that gets the job done, going with a standard one should work! Don't buy just any crib, though; look through the various options and styles first.
Pros
· Simple, sturdy design; easy to put together
· Usually well-constructed and long-lasting
· Tends to be the cheapest type of crib available
Cons
· Not easy to move around from room to room
· No options found in other, more expensive crib types
Convertible Cribs
These are designed to convert and grow with your baby. When they grow out of the crib, they can convert to a toddler (or even full-sized) bed so you can keep using it.
Cribs that convert to full-sized beds can last until your child moves out, even!
Sometimes you need to purchase separate kits to convert the crib, so you can choose to either buy it along with the crib knowing you won't need it for a few years, or wait until you actually need it.
Pros
· Best value for the money
· Can transform as your child grows, sometimes even into a full-sized bed!
Cons
· Sometimes harder to put together than standard cribs
· More expensive than most cribs (but better long-term investment)
· Not as sturdy as standard cribs
· Decor styles & trends change. Might not always fit in with rest of furniture or tastes
Portable Cribs
Designed for those of us who have a lack of space, travel a lot or simply don't need to use a crib that often, portable cribs are also good option if you'll need to move it around with ease.
They usually have the ability to fold up easily, making them ideal for travel, too.
Being able to move the crib around from room-to-room also makes it possible for you to keep an eye on them at all times without having to use a baby monitor.
Be sure to pay attention to the type of wheels the crib has. Depending on whether you have to roll it over carpet or floor, you'll need to make sure you have the right type, as the floors can become scratched if you aren't careful.
Pros
· Can move it from room to room
· Great for homes with limited space
· Great for people who don't often need a crib
Cons
· Not ideal for a full-time crib
· Need to store mattress away when folded up
· Less design choices, don't look as nice
Travel Cribs
Designed for those that travel, portable cribs aren't meant to be used as a full-time crib, but are excellent if you need something that folds up into a small package to bring with you.
If you plan on spending a night at grandma's house, a travel crib is a great option.
Since these cribs are made of lightweight materials like aluminum and mesh, they are easy to transport, but they aren't sturdy enough to use as a permanent crib.
A convenient option is a convertible crib; one that can transform from an infant crib into a toddler bed when they outgrow it.
Pros
· Ideal for parents who travel
· Quick to set up: most can be done in 5-10 minutes and broken down just as quickly
· Lightweight and easy to carry
Cons
· Not suitable as a full-time crib
· Lightweight material makes it not that sturdy
Buying a New Crib: What to Consider
Buying a crib is no easy task; there are a lot of different things you have to take into consideration. Before you drive to the store and start your search, here are the things you should think about first.
Price Range
Cribs range in price from the low $100s to over $1000, so there's something for any price range. However, in order to make your shopping experience easier, you should set out a budget first.
Going for a convertible crib may mean a higher initial investment, but the crib will last you much longer ultimately.
Lockable Caster Wheels: If You're Going to Move It
If you're going to be moving the crib around at all, you're going to want one that has caster wheels to roll it around. This also makes it a lot easier to change the sheets.
However, if you go this route, make sure that the wheels are able to be locked in place. Otherwise, it's simply not safe at all once your baby starts to stand on their own.
How Much Space Do You Have?
Cribs are big, and if you have a limited amount of space to put it, you need to think about that. All crib info sheets should tell you how big the assembled size is. If you have no room at all for a crib, a baby bassinet is a good alternative to use for the first few months.
Is the Crib a Standard Size?
The standard baby crib size is 52 by 27.8″, and the standard crib mattresses adhere to this size. However, some cribs come in difference sizes, so if you get one of these, it's imperative that you get a mattress that will fit it.
I'd recommend just going with a crib that uses the standard size, because it's going to be a lot easier to deal with.
Does it Match the Rest of Your House?
Cribs come in a variety of styles, so you should try to get one that matches the rest of your house, or at the very least, your nursery. Most cribs are made of wood, but some will be made out of metal, so keep that in mind, too.


Safety Concerns: What to Look Out For
There are a lot of things to beware of when shopping for a crib that's going to be safe.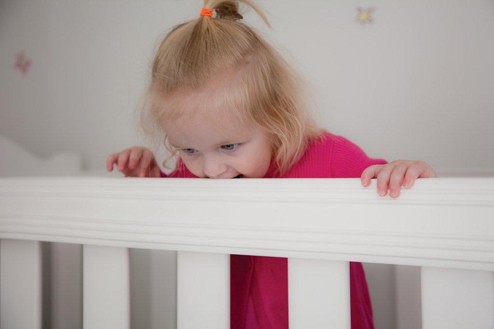 Teething Rails: A Necessity
Somewhere around the age of 4-6 months, babies usually start to get their teeth.
This leads to them turning into little beavers, sinking their teeth into the crib railing and using it as a teething toy. This can lead to your toddler having a mouthful of wood splinters and paint, and needless to say this is something you want to avoid!
While crib manufacturers are not required to put teething rails in place, some do opt to put permanent rails in their cribs.
There are also 3rd party teething rails available that you can attach to the crib, but you have to be careful with them. A particularly curious toddler can remove them with ease!
Don't Use Crib Bumpers (aka Sleep Positioners)
Crib sleep positioners used to be a common thing to use in cribs; they're meant to keep baby in place and sleeping on their backs.
However, after several deaths were attributed to these positioners, they're no longer manufactured in the USA and not recommended.
You can read our full article on the danger of sleep positioners to see exactly why.
Buying (or Using) a Used Baby Crib: Be Careful
While it's not recommended to use a used crib, some parents still opt to do this.
Maybe they have an heirloom crib that was given to them by family, or maybe it was just to save money.
I wouldn't recommend this because there are many things that could go wrong; it could be recalled and you don't even know it.
It could also be missing the instructions, and an improperly-assembled crib isn't safe at all. It could be suffering from wear or damage that's not immediately noticeable, too.
Worst, it may just be an unsafe crib, period. Since the safety standards changed in 2010 and drop-side cribs are no longer sold in stores, but they're still available, especially from private sellers.
However, if you are insisting on buying a used crib, here are some guidelines to follow:
Check to See if it Was Recalled
If you have an older crib and can't afford to buy a new one, please check the CPSC's crib recall database at the very least to make sure your particular crib hasn't been recalled. If it has been, don't use it. In fact, if there is no sentimental value in the crib, it would be best to destroy it.
Make Sure the Slats Are the Right Distance
Modern safety standards dictate that the distance between the slats should be no more than 2 3/8″; this is because any more can mean your child getting a limb stuck. While this isn't a concern in newer cribs, older ones may have this issue, as there was no standard.
Check the Height of the Corner Posts
The corner posts should be no higher than 1/16″ as this can pose a risk to your baby by choking. You'll generally only find cribs with this issue if they were manufactured in the 90's or earlier, but it's still something to watch out for.
The exception to the rule are cribs that have corners higher than 16 inches to support a canopy; these won't be a choking hazard.
Drop-Side Cribs: No Longer Available (or Safe)
Back in the day, cribs generally came in one of several formats: stationary sides, drop-sides, and drop-gate cribs that fold down.
Unfortunately, it turned out that drop-side cribs posed a serious safety risk, and manufacturers are no longer allowed to make these styles of cribs.
Again, if you have one of these older cribs that has a drop-side, please don't use it! It's just not safe, and you're much better off just getting a newer one that meets the new safety standards.
You can't find these cribs on sale in stores anymore, but that doesn't mean you won't end up with one from eBay, a garage sale, or passed down by friends or family.
Has the Crib Been Disassembled?
If buying a used crib, it's ideal to get one that hasn't been disassembled.
The reason is that parts could be missing, or if there are no instructions, there's no telling whether or not you'll reassemble it correctly and safely.
Also, if it's in pieces when you buy it, it's almost impossible to tell if it's in good condition or not.
What To Do With an Unsafe Crib
If you have a crib that you know is unsafe for any particular reason, whether it's an old drop-side crib or it's just old and missing parts, the responsible thing to do is to destroy it.
When you throw it in the trash, mark on it somewhere that it's unsafe to use.
However, if you have a crib that was recently recalled, you can send it back to the manufacturer for a refund.
Don't Forget a Mattress & Sheets!
Most cribs don't come with a mattress, so don't forget that you need to get one.
Reference
Jennifer Taylor. (2017, November 9), Mum's Guide 2017: The Best Baby Crib For Safety and Comfort [Blog Post]. Retrieved from https://www.momtricks.com/baby-cribs/#new
---
Leave a comment