Best Moisturizers for Baby
Date Posted:9 January 2018


your baby need a moisturiser.
Best Moisturizers for Baby
Choosing the right moisturizer for your baby can be difficult. We asked dermatologists for their favorite hypoallergenic products so you can find the right one for your cutie.
With the store shelves overflowing with different formulations and brands, choosing the right product to meet your little one's needs can be tricky. And it becomes even more complicated when you factor in that infant skin is easily irritated by fragrances, dyes, and other ingredients in skin-care products and the environment. A good rule of thumb is that ointments are more hydrating than creams, which are more hydrating than lotions. To find the perfect moisturizer to keep your baby's skin soft and rash-free, try out one of these baby lube picks from top mommy dermatologists.
Kavita Mariwalla, M.D., assistant professor of dermatology at Stony Brook University Hospital and a mom of two under age 3, relies on this brand to keep her son's eczema-prone skin smooth. Aquaphor works wonders as a daily moisturizer after bathing, and is a go-to for diaper rash. Petrolatum conditions and protects, and lanolin is less likely to cause an allergic reaction.
2. Aveeno Baby Daily Moisture Lotion
For babies with sensitive skin, Rebecca Tung, M.D., director of the division of dermatology at Loyola University, recommends Aveeno Daily Moisture Lotion. She notes that this product "sinks in without feeling sticky and relieves dry, itchy skin for hours." This lotion is also fragrance-free and noncomedogenic and has minimal ingredients. (18 oz., $8.97)
3. Aveeno Skin Relief Healing Ointment
Thicker than a cream, this product is a good choice for chapped skin, especially in those cold winter months. For maximum protection (and a little bonding), parents can massage the ointment in right after a bath. Valerie Callender, M.D., medical director of the Callender Dermatology & Cosmetics Center in Washington, D.C., recommends using Aveeno Skin Relief to protect against the irritation that can result from a Binky or messy meals. Apply to your baby's face as a barrier before she eats or naps, the times when drool is most likely to pool.
4. Babytime! Soothing Cream by Episencial
If you're looking for an all-natural moisturizer, Babytime Soothing Cream features ingredients that would be just as at home in the kitchen: chamomile, shea butter, safflower, avocado, and jojoba oils. Antioxidants and probiotics help to settle easily inflamed infant skin. Infused essential oils make this a nice choice for postbath pampering.
5. Eucerin Baby Eczema Relief Instant Therapy Creme
This steroid-free, dye-free, and fragrance-free option is great for kids who have eczema or sensitive skin, according to Elizabeth Tanzi, M.D., associate professor of dermatology at the George Washington University Medical Center, in Washington, D.C. Oats calm the rash, while ceramides strengthen the compromised skin barrier
6. Vanicream Moisturizing Skin Cream with Pump Dispenser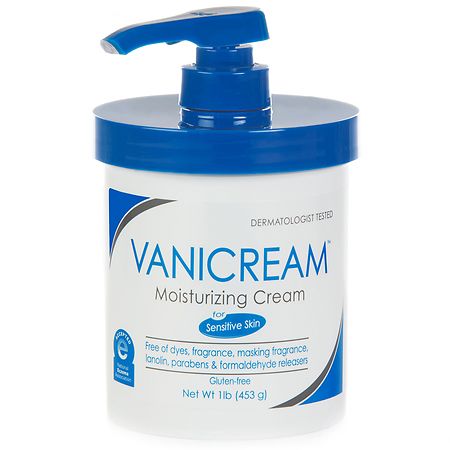 Vanicream's moisturizing cream is a favorite among dermatologists, thanks to its hypoallergenic composition—it's free of dyes, fragrance, lanolin, masking fragrance, formaldehyde, parabens, and common chemical irritants found in other skin-care products. It's intensely hydrating, making it perfect for nursing moms with cracked or dried nipples—and the pump dispenser helps cut down on the mess.
7. CeraVe Baby Moisturizing Lotion
This paraben-, sulfate- and fragrance-free mix of vitamins and ceramides, packaged in a bottle that is free of phthalates and BPA, locks in moisture for 24 hours after application. CeraVe isn't tested on animals, so your baby and your favorite pet will love you for this one!
All content on this Web site, including medical opinion and any other health-related information, is for informational purposes only and should not be considered to be a specific diagnosis or treatment plan for any individual situation. Use of this site and the information contained herein does not create a doctor-patient relationship. Always seek the direct advice of your own doctor in connection with any questions or issues you may have regarding your own health or the health of others.
Reference:
Mona A. Gohara &M.D. (n.d.). "Best Moisturizers for Baby". Retrieved from https://www.parents.com/baby/care/skin/best-moisturizers-for-baby/
---
Leave a comment